Interior design trends increasingly celebrate sustainable, eco-conscious decor. Using reclaimed or upcycled materials diverts waste while adding rustic personality. Wooden shipping pallets prove one of the most versatile discarded items for repurposing into stylish, durable furniture and accent pieces. With basic tools, creativity, and these construction tips, you can transform ordinary pallets into extraordinary show-stopping fixtures on any budget.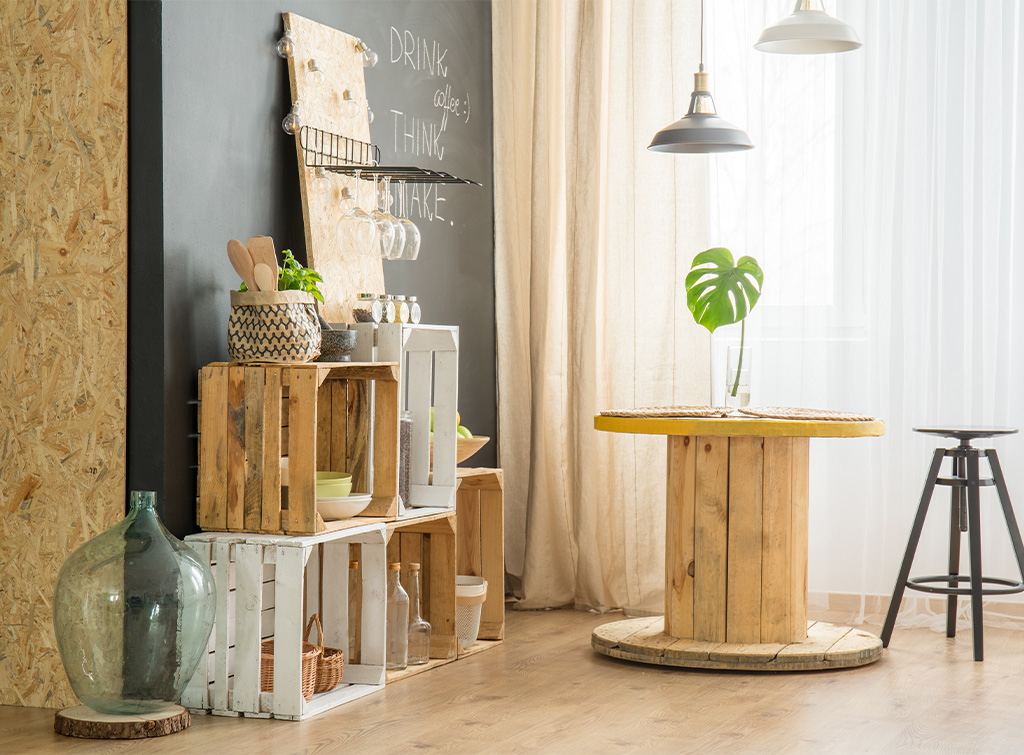 Sourcing Quality Pallets
When collecting pallets for projects, examine each carefully before selecting. Seek sturdy pallets preferably stamped "HT" indicating heat-treatment rather than chemical fumigation. Avoid pallets with protruding nails, cracked or split boards, powdery surface residue, or mold growth. Be aware that fragrant woods like cedar used for certain products can cause allergic reactions. Look for pallets with mostly intact stringers and at least 3-5 straight, useable deck boards per side. Oak displays attractive graining while pine is lightweight.
Safely Disassembling Pallets
Using a pry bar and hammer, disassemble pallets by removing all nails, screws, and boards. Avoid damaging wood by patiently dislodging fasteners rather than forcing boards apart aggressively. Check each salvaged piece for defects before stacking useable boards. For outdoor projects, consider disassembling using deck screws allowing easier future modifications.
Prepping and Finishing Wood
Sand pallet boards using 60-80 grit to smooth surfaces, then finish sanding with 120-220 grit. Always sand with the wood grain, rather than against it. Wipe away all dust before staining, painting, or sealing. Using a quality wood conditioner helps planks absorb stain more uniformly. Finish pallet projects with polyurethane or outdoor sealant for long-lasting protection. Proper prep work and finishing showcases the unique beauty of salvaged wood.
Building Pallet Furniture
The construction methods for pallet projects are only limited by imagination. Measure furniture dimensions and mark plank cutting lines with pencil. Use a circular saw with a fine finish blade to cut boards accurately. The experts at SPAX recommend pre-drilling holes to prevent splitting. Join boards at angles undetectably using pocket hole joinery secured with decking screws rated for wood use.
Adhere boards side-by-side using wood glue and clamps if you are making tabletops, shelving, and box frames. Attach deck boards evenly across intact stringers to make bench seats and bases. Sand edges smooth before final assembly. Add interest with varied paint techniques from distressed to gradated ombre pallet furniture.
Creative Pallet Upcycles
Salvaged pallet wood also adds rustic beauty to wall decor and storage fixtures. Use full planks with mounted brackets as floating shelves and towel racks. Alternate board direction for interest. Adhere remnant wood pieces in geometric patterns onto backing boards to make super-sized wall art and headboards.
In the kitchen, you can mount full planks in a cubby configuration for spice storage. You could also use planks above counters secured with nails as mug hooks and wine bottle holders. Consider constructing rolling bar and kitchen carts from pallet stringers and deck boards for extra counter and storage space. Adding wheels will provide mobility if needed.
For exterior projects, use intact pallets, spacing deck boards to allow drainage. Paint planter boxes and serving tables to match outdoor color schemes. Pallet wood brings warmth and sustainability to patio and deck settings.
Conclusion
Repurposing salvaged shipping pallets into one-of-a-kind furniture and decor celebrates sustainability while infusing spaces with rustic warmth and charm. With vision and fundamental woodworking skills, you can upcycle an abundant waste material into treasured showpieces. From preparation to fastening methods, each step spotlights the unique beauty of weathered wood.
The personal satisfaction gained from transforming discarded pallets into functional art is unmatched. Let your imagination guide you to invent new purpose for forgotten objects. Combining eco-conscious ideals with artistry yields truly inspiring creations you will value for years to come.